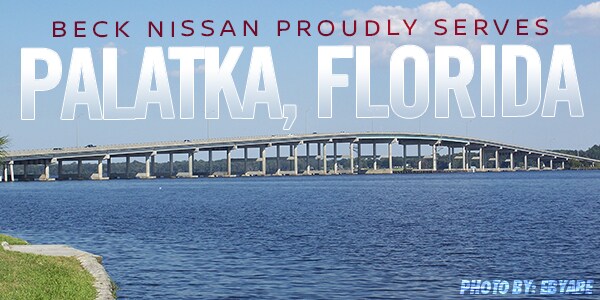 Nissan Dealer Serving Palatka, Florida
Palatka, Florida
is home to more than 10,000 residents and serves as the principal city of the Palatka Micropolitan Statistical Area that more than 72,000 people call home. Well known for its festivals, like the Blue Crab Festival, Palatka features many attractions that bring in visitors from around the country. In addition to attractions, Palatka also features several cozy restaurants that are perfect to end a night out on the town.
Palatka history is remarkable, full of close calls that could have destroyed the city altogether. During the early and mid-1800s, the town now known as Palatka experienced a surge in tourism that was ultimately interrupted by the American Civil War. During the Civil War, gunboats patrolled the waters near Palatka, scaring away residents and leaving the city deserted. In October 1982, the USS Cimarron spotted what appeared to be Confederate soldiers in the city and fired several shells over the rooftops. A resident by the name of Mary Boyd convinced Union Commander Maxwell Woodhull that the soldiers were not residents of Palatka. As a result, he spared the city.
Palatka is home to
Ravine Gardens State Park
that displays the natural beauty of the area. Named for the two permanent ravines that run up to 120 feet deep, the park offers sights that are rarely found elsewhere. Considering some of the original 1933 landscaping still exists in the gardens and trail system, this attraction is as much historical as it is natural. 
The
Rice Creek Conservation Area
stretches over 5,000 acres and is home to Rice Creek Swamp. Featuring several excellent, historical trails, a swamp may offer several must-see sights for nature lovers and historians alike.
When it's time for a bite to eat, stop by
Corky Bell's Seafood
for the latest and freshest catch of the day! A perfect spot for lunch and dinner, the friendly staff is happy to answer questions about local attractions. Those with a taste for food made on land,
The Magnolia Café
is the place to be! A hotspot for breakfast and lunch, this café offers some of the best dishes in Palatka.
If you are in the market for a new or
used car
, we urge you to check out the selection here at Beck Nissan! We're located just north of the heart of Palatka. We're only 45 minutes from St. Augustine and 50 minutes from Gainesville.
Trust us when we say that we're worth the drive! Visit us at

252 U.S. 17

Palatka

,

FL

32177!
We hope to see you in the Palatka area soon!